Kingwin

Kingwin 4 Digit PCI & ISA Computer Motherboard Analyzer
Overview
Standard PCI & ISA interface for easy access to your desktop PC. 4-Digit display. Frontal 2 digit for current error code & back 2 digit for previous error code. POST (Power On Self Test) card displays error code quickly when booting. Error code table offered makes you know the error details easily.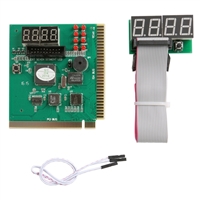 Kingwin 4 Digit PCI & ISA Computer Motherboard Analyzer
Usually ships in 1-3 business days.