Smithsonian

Smithsonian Planetarium Projector
Overview
Room planetarium and dual projector, a dual function planetarium brings the nighttime sky into your room, a rotating star pattern of the northern sky is projected with HD space images like planets, nebulas, moons, asteroids and other celestial bodies. The duel projector allows for you to see the both the stars (as a background) at the same time as 24 different HD space images. Bonus sea pack also included.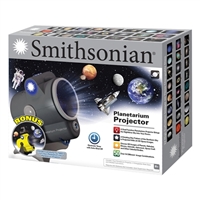 Smithsonian Planetarium Projector
Usually ships in 1-3 business days.