Motorola

Motorola 16x4 Cable Modem & AC1900 Wi-Fi Gigabit Router w/ Power Boost
Overview
MG7550 is a 16x4 686 Mbps DOCSIS 3.0 Cable Modem with a built-in AC1900 Wi-Fi Gigabit Router with Power Boost. The MG7550 is certified by a number of leading cable service providers including Comcast XFINITY Time Warner Cable. Owning the MG7550 eliminates modem rental charges that are often $100 or more per year. With easy installation, very high-speed, broad compatibility, and superb customer support, Model MG7550 is a great choice for almost any cable modem user. 16X4 modem performance means that up to 16 cable data channels carry data from the Internet, 16 times faster than DOCSIS 2.0; and up to 4 channels carry data to the Internet. Wireless Power Boost amplifies the wireless signal to the legal limit and increases speed and range. AnyBeam beamforming at 2.4 GHz and 5.0 GHz focuses the signal on wireless clients to allow further improvements to wireless performance and range.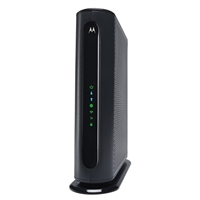 Motorola 16x4 Cable Modem & AC1900 Wi-Fi Gigabit Router w/ Power Boost
Usually ships in 5-7 business days.