Mini Gadgets Inc.

Mini Gadgets Inc. Economy Bug Detector with Radio Frequency and Lens Finder
Overview
Are you worried that you may be being filmed or listened to without your knowledge, this wireless detector can detect hidden wired and wireless video, with multiple alert modes including audible alarms, LEDs and vibration. It locates bugs on frequencies from 1 MHz to 6500 MHz, and you can adjust the detecting sensitivity. Most surveillance equipment operates at 2.4GHz. This is one of the best economical bug detectors with analog and digital switch and LED indicator. Check homes and offices for wireless devices. Wireless transmitters vary in signal strength. Some are designed to transmit as far as three miles away while others can only be received one room away. Micro spy cams are designed to output at low signal strengths to make them more difficult to detect. A detector with high sensitivity is a must.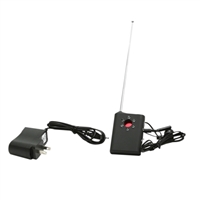 Mini Gadgets Inc. Economy Bug Detector with Radio Frequency and Lens Finder
Usually ships in 5-7 business days.