Griffin

Griffin Auxiliary Cable 3-Foot
Overview
Basic audio connection between whatever you're listening to and a car or home stereo. 3-foot-long cable with 1/8" (3.5 mm) stereo-mini jacks connect your smartphone, MP3 player or anything else with a standard headphone jack to your car stereo, home entertainment system, boombox, or powered speaker.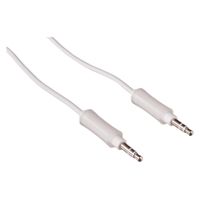 Griffin Auxiliary Cable 3-Foot
Usually ships in 1-3 business days.