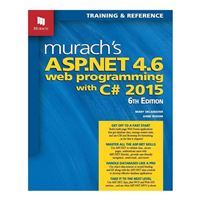 Mike Murach & Assoc.

Mike Murach & Assoc. Murach's ASP.NET 4.6 Web Programming with C# 2015, 6th Edition
Overview
If you know the basics of C#, you're ready to learn to develop server-side web applications with ASP.NET Web Forms. To make it easier for you to master ASP.NET, you get complete web applications...including the web forms, the aspx code, and the C# code...that show you how each feature works in context. (You can download these for free from the Murach website.) You get chapter exercises that let you practice your new skills. And you get Murach's distinctive paired-pages format that developers like because it saves both training and reference time.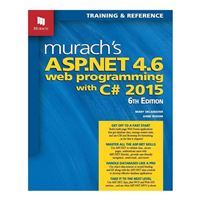 Mike Murach & Assoc. Murach's ASP.NET 4.6 Web Programming with C# 2015, 6th Edition
Usually ships in 5-7 business days. Limited availability. May not be in stock at time of order. No back orders.