Adafruit Industries

Adafruit Industries GEMMA v2 - Miniature Wearable Electronic Platform
Overview
The Attiny85 is a fun processor because despite being so small, it has 8K of flash, and 5 I/O pins, including analog inputs and PWM 'analog' outputs. We designed a USB bootloader so you can plug it into any computer and reprogram it over a USB port just like an Arduino (it uses 2 of the 5 I/O pins, leaving you with 3). In fact we even made some simple modifications to the Arduino IDE so that it works like a mini-Flora. Perfect for small & simple projects the GEMMA will be your go-to wearable electronics platform.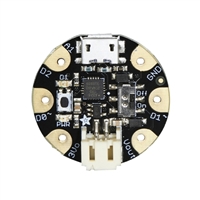 Adafruit Industries GEMMA v2 - Miniature Wearable Electronic Platform
Usually ships in 5-7 business days.