NTE Electronics

NTE Electronics Aluminum Electrolytic 1uf 50V Capacitor - 2 Pack
Overview
The NTE VHT series of aluminum electrolytic capacitors are designed for use in automotive, commercial, and industrial applications. These high temperature, radial lead capacitors are especially suitable for applications that require extended life and higher temperature operation. Tolerance: 20%. Temperature: +105C.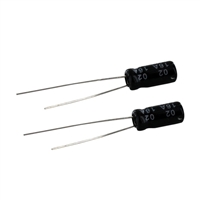 NTE Electronics Aluminum Electrolytic 1uf 50V Capacitor - 2 Pack
Usually ships in 5-7 business days.