Adafruit Industries

Adafruit Industries 15x7 CharliePlex LED Matrix FeatherWing - Cool White
Overview
You wont be able to look away from the mesmerizing patterns created by this Adafruit 15x7 CharliePlex LED Matrix Display FeatherWing. This 15x7 LED display can be paired with any of our Feather boards for a beautiful, bright grid of 105 charlieplexed LEDs. It even comes with a built-in charlieplex driver that is run over I2C.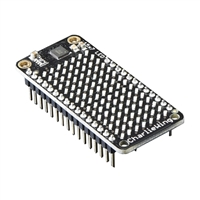 Adafruit Industries 15x7 CharliePlex LED Matrix FeatherWing - Cool White
Usually ships in 1-3 business days.