Corsair

Corsair ML140 Magnetic Levitation 140mm Case Fan - Twin Pack
Overview
Corsair ML140 delivers unrivaled performance and silence by utilizing magnetic levitation technology and a custom rotor design. The innovative design provides the high static pressure and high air flow, with an ultra-low friction magnetic bearing that simultaneously generates lower noise and provides higher performance. A 1,600 RPM control range gives you total control between silence and absolute performance.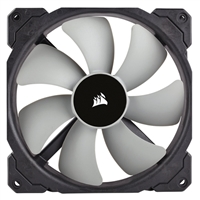 Corsair ML140 Magnetic Levitation 140mm Case Fan - Twin Pack
Usually ships in 5-7 business days.