Available for In-Store Pickup Only.

Overview
This is the Adafruit Feather 32u4 FONA - our take on an 'all-in-one' Arduino-compatible + audio/sms/data capable cellular with built in USB and battery charging. At the Feather 32u4's heart is at ATmega32u4 clocked at 8 MHz and at 3.3V logic, a chip setup we've had tons of experience with as it's the same as the Flora. This chip has 32K of flash and 2K of RAM, with built in USB so not only does it have a USB-to-Serial program & debug capability built in with no need for an FTDI-like chip, it can also act like a mouse, keyboard, USB MIDI device, etc.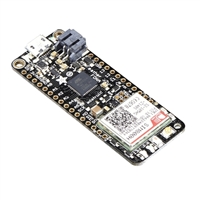 Adafruit Industries Feather 32u4 FONA
Available for In-Store Pickup Only.