Thermaltake

Thermaltake G 1/4" Pacific Straight Compression Fitting - Black
Overview
The Thermaltake Pacific PETG Fittings provides a complete solution for enthusiast and custom PC builders to meet the needs of setting up a complete water cooling system. With G1/4 durable copper fittings, finished in black coatings, take every detail seriously. Make your system a showcase for all to see with high quality components from Thermaltake.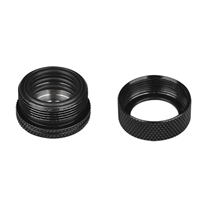 Thermaltake G 1/4" Pacific Straight Compression Fitting - Black
Usually ships in 1-3 business days.