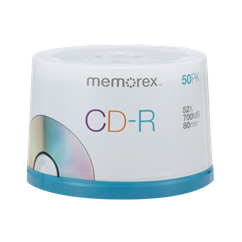 Memorex

Memorex CD-R 52x 700 MB/80 Minute Disc 50-Pack Spindle
Overview
Memorex CD-R offers 80 minutes of audio recording time or 700 MB of data storage, available in 1x - 52x write speed compatible and can only be recorded on a Computer CD Writer. Memorex CD-R offers the best playback and recording compatibility with computer and home audio recorders and players. These discs are perfect for saving data files, or backing-up your favorite music. The write-once format stores your data permanently.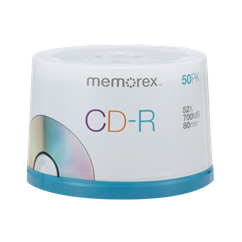 Memorex CD-R 52x 700 MB/80 Minute Disc 50-Pack Spindle
Usually ships in 5-7 business days.