QVS

QVS Micro-USB (Type-B) Male to USB 2.0 (Type-A) Female Slim OTG Adaptor for Smartphone or Tablet 6 in. - Black
Overview
Converts Micro-USB port found on smartphones and tablets into standard USB female port. It connect USB peripherals such as keyboard, mouse, flash drive, or game controller to micro-USB Android device. This cable allows OTG (On-The-Go) supported smartphone act as USB host. In this mode, you can connect USB devices to smartphone as you would use them on your PC. Please check phone manufacturer specs to see if OTG is supported. Compatible with Raspberry Pi development boards. Built-in cable provides connection flexibilty and slim micro-USB connector works well with smartphone or tablet with cases.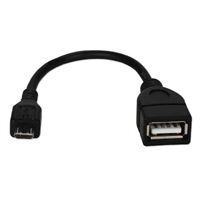 QVS Micro-USB (Type-B) Male to USB 2.0 (Type-A) Female Slim OTG Adaptor for Smartphone or Tablet 6 in. - Black
Usually ships in 5-7 business days.