APC

APC BN650M1 650VA Back-UPS w/ 7 Outlets & 1 USB Port
Overview
The APC Back-UPS BN650M1 optimizes the home and small business uninterruptible power supply (UPS) design, performance, and feature set. After listening to our valued customers, we designed a new Back-UPS that is focused on the most critical aspects of a UPS; backup runtime during an outage, number of battery backup outlets, and convenience.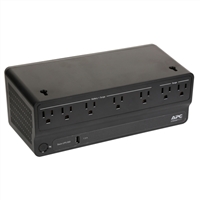 APC BN650M1 650VA Back-UPS w/ 7 Outlets & 1 USB Port
Usually ships in 5-7 business days.