Proto-Pasta

Proto-Pasta 1.75mm Polishable Stainless Steel PLA 3D Printer Filament - 0.5kg Spool (1.1 lbs)
Overview
Proto-pasta Stainless Steel PLA is a dense material that prints as easily as standard PLA but results in heavy cast metal looking prints that can be brushed, sanded, or polished post-print to achieve amazing results. Perfect for jewelry, costumes, props, figurines, crafting, robots, and more! Usable on most PLA-compatible printers, such as Lulzbot, Makerbot, FlashForge, Dremel, Ultimaker, Printrbot, and more!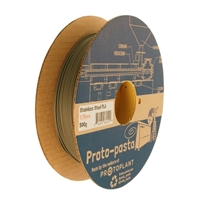 Proto-Pasta 1.75mm Polishable Stainless Steel PLA 3D Printer Filament - 0.5kg Spool (1.1 lbs)
Usually ships in 5-7 business days.