Proto-Pasta

Proto-Pasta 1.75mm Rustable Magnetic Iron PLA 3D Printer Filament - 0.5kg Spool (1.1 lbs)
Overview
Proto-pasta Rustable Magnetic Iron Metal PLA Composite is actually ferromagnetic. It responds to magnets and behaves similarly to pure iron! Encapsulated in plastic, the iron maintains a stable matte, cast metal finish as printed, but can be rusted when desired. Usable on most PLA-compatible printers, such as Lulzbot, Makerbot, FlashForge, Dremel, Ultimaker, Printrbot, and more!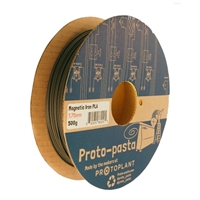 Proto-Pasta 1.75mm Rustable Magnetic Iron PLA 3D Printer Filament - 0.5kg Spool (1.1 lbs)
Usually ships in 1-3 business days.