Proto-Pasta

Proto-Pasta 1.75mm Electrically Conductive Carbon PLA Composite 3D Printer Filament - 0.5kg Spool (1.1 lbs)
Overview
Proto-pasta Conductive PLA prints with normal PLA settings on the higher temperature range: up to 240C. It prints well on most machines: larger parts can warp and a moderate heated bed can help. Layer adhesion is not as good as normal PLA and it is mechanically less strong. The filament is relatively brittle and can break easily if not handled carefully. The color is very dark black with a shiny appearance. Usable on most PLA-compatible printers, such as Makerbot, FlashForge, Dremel, Ultimaker, Printrbot, and more!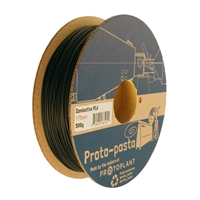 Proto-Pasta 1.75mm Electrically Conductive Carbon PLA Composite 3D Printer Filament - 0.5kg Spool (1.1 lbs)
Usually ships in 5-7 business days.