Proto-Pasta

Proto-Pasta 1.75mm Black PLA 3D Printer Filament - 0.5kg Spool (1.1 lbs)
Overview
The original is still the best! World's First Carbon Fiber PLA was kickstarted by ProtoPlant more than 2 years ago. Others try, but can't match the quality and ease of printing experience afforded by this product. Now available at a cost low enough for everyday printing.Proto-pasta Carbon Fiber PLA is based on our easy printing high quality PLA. Made from the highest quality, dry ingredients and extruded with care in our Washington facility on our own purpose-built extrusion systems. CFPLA prints are demonstrably more rigid with easy processing (often using standard PLA settings) and support removal. Excellent layer adhesion and minimal warpage even without a heated bed make this a great everyday exotic for accurate parts. Layer lines disappear with the beautiful matte black finish. Also has a slight sheen due to the embedded carbon making it very photogenic!These 500g spools are shipped on the industry's only fully recyclable corrugated paper spools with no metal or plastic parts. These extremely high quality spools are rigid, lightweight, attractive, and eco-friendly. They also have a larger than normal inner core improving printability of the last few layers of material, especially on 2.85mm diameters. The different designs on each spool are actual drawings, schematics, and code from the equipment we manufacture your filament on. Enjoy!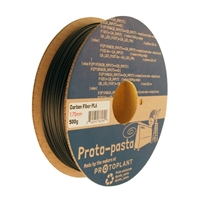 Proto-Pasta 1.75mm Black PLA 3D Printer Filament - 0.5kg Spool (1.1 lbs)
Usually ships in 5-7 business days.