Adafruit Industries

Adafruit Industries Feather 32u4 Adalogger
Overview
At the Feather 32u4's heart is at ATmega32u4 clocked at 8 MHz and at 3.3V logic, a chip setup we've had tons of experience with as it's the same as the Flora. This chip has 32K of flash and 2K of RAM, with built in USB so not only does it have a USB-to-Serial program & debug capability built in with no need for an FTDI-like chip, it can also act like a mouse, keyboard, USB MIDI device, etc. To make it easy to use for portable projects, Adafruit added a connector for any of our 3.7V Lithium polymer batteries and built in battery charging. You don't need a battery, it will run just fine straight from the micro USB connector.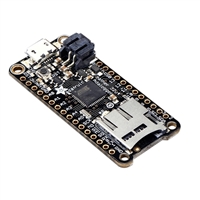 Adafruit Industries Feather 32u4 Adalogger
Usually ships in 1-3 business days.