Arris Enterprises

Arris Enterprises Surfboard SB6190
Overview
Introducing the first Gigabit+ Cable Modem on the market. The SURFboard SB6190 is a DOCSIS 3.0 modem capable of download speeds up to 1.4 Gbps! Thats fast enough to download multiple HD movies in one minute! Power your home network with the SB6190 to deliver the fastest speeds and most reliable connection to the Internet. With over 135 million sold, its easy to see why were the market leader!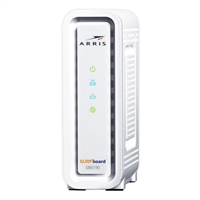 Arris Enterprises Surfboard SB6190
Usually ships in 1-3 business days.