Verbatim

Verbatim 16GB USB3.1 Flash Drive Gold
Overview
Designed for the most discerning of USB drive users, the Verbatim Metal Executive is the ultimate in sleek sophistication. This drive features a seamless, high-quality metal enclosure with fully encapsulated Chip On Board COB technology for water resistance and enhanced reliability. The Metal Executive is an ideal file transfer and storage solution for business and IT professionals, or other users who prefer the premium look and more substantial feel of a genuine metal enclosure.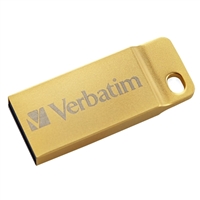 Verbatim 16GB USB3.1 Flash Drive Gold
Usually ships in 5-7 business days.