Syba

Syba 4-port SATA III PCIe 2.0 Controller Card
Overview
Easily add 4 more SATA ports to your system for additional drives. Simple and quick to use in a vertical orientation for quick connecting. Allows for a single port to be used for port multiplication. Includes an LED cable for detecting HDD activity.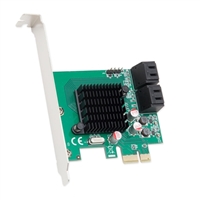 Syba 4-port SATA III PCIe 2.0 Controller Card
Usually ships in 5-7 business days.