Verbatim

Verbatim 16GB Store 'n' Go USB Flash Drive 3 pack
Overview
A Verbatim classic, our Store n Go USB drives offer a convenient cap-less design and areliable name youve come to trust. The Store n Go gives you the ability to capture all yourdata in one small, convenient location and move that information with you throughout the day.The retractable housing easily slides in and outno cap to lose.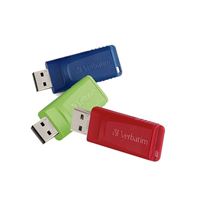 Verbatim 16GB Store 'n' Go USB Flash Drive 3 pack
Usually ships in 5-7 business days.