j5create

j5create VGA Male/ USB 2.0 (Type-A) Male to HDMI Female Video Adapter - White
Overview
J5create's VGA to HDMI Video adapter JDA214 allows you to connect the VGA input from your laptop or desktop to the HDMI output of a monitor or projector by converting the VGA video signal from the input device into a HDMI output and with a built-in USB power cable. The device is powered using the USB port on your computer. The adapter supports high definition 1080p resolutions up to 1920x1200. The Adapter can also increase your productivity by extending your computer's desktop onto a secondary monitor, doubling available workspace. This adapter has a high quality, compact design for long term durability and a minimal footprint. Plug and play with no software required.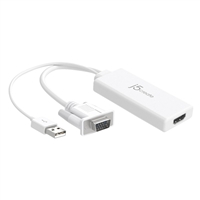 j5create VGA Male/ USB 2.0 (Type-A) Male to HDMI Female Video Adapter - White
Usually ships in 1-3 business days.