Hakko

Hakko FX600-05/P 75 Watt Soldering Iron - Blue
Overview
T18 series soldering tips feature an redesigned appearance and internal structure that deliver improved heat conductivity. Use these soldering tips to achieve great heat recovery without increasing power consumption.Features a temperature controller built into the grip. Easily adjust the temperature with a simple turn of the knob.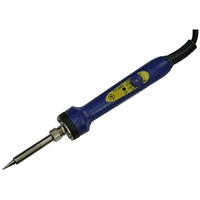 Hakko FX600-05/P 75 Watt Soldering Iron - Blue
Usually ships in 5-7 business days.