Solid Gear

Solid Gear 250 Watt TFX Power Supply
Overview
Solid Gear TFX-250 power supply is a great choice for high performance small form factor system. This 250W power supply can handle typical power consumption of your computer components. With the low noise fan and various safety protections, it is ideal for home theater PC builders or power supply replacement.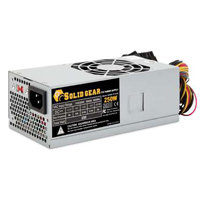 Solid Gear 250 Watt TFX Power Supply
Usually ships in 1-3 business days.