Adafruit Industries

Adafruit Industries Electret Microphone Amplifier - MAX4466 with Adjustable Gain
Overview
This breakout is best used for projects such as voice changers, audio recording/sampling, and audio-reactive projects that use FFT. On the back, we include a small trimmer pot to adjust the gain. You can set the gain from 25x to 125x. That's down to be about 200mVpp (for normal speaking volume about 6" away) which is good for attaching to something that expects 'line level' input without clipping, or up to about 1Vpp, ideal for reading from a microcontroller ADC. The output is rail-to-rail so if the sounds gets loud, the output can go up to 5Vpp!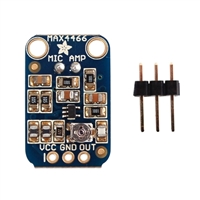 Adafruit Industries Electret Microphone Amplifier - MAX4466 with Adjustable Gain
Usually ships in 1-3 business days.