Adafruit Industries

Adafruit Industries 3M Z-Axis Conductive Tape 9703 - 2"x6" Strip
Overview
Z-axis tape is made by 3M, and is used to bond two conductive surfaces together and allow a small (try to keep it under 100mA) current to flow through the tape. But here's the cool part: its only conductive across the thickness of the tape itself, not along the length or width. Mindblowing, right? Its a regular adhesive tape with little chunks of conductive material every 0.1mm or so. The adhesive does the bonding, the little chunks do the conducting. This tape goes great with our other interesting conductive materials, such as copper tape, ITO glass or plastic, conductive inks, etc.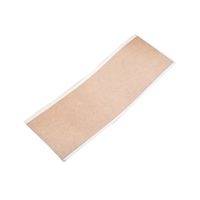 Adafruit Industries 3M Z-Axis Conductive Tape 9703 - 2"x6" Strip
Usually ships in 5-7 business days. Limited availability. May not be in stock at time of order. No back orders.