Adafruit Industries

Adafruit Industries Diffused RGB 10mm LED - 10 Pack
Overview
Make some beautiful colors with these diffused 10mm tri-color LED with separate red, green and blue LED chips inside! They make a nice indicator, and fun to color-swirl. Adafruit diffused RGB LEDs because they color mix inside instead of appearing as 3 distinct LEDs. These are Common-Anode type which means you connect one pin to 5V or so and then tie the other three legs to ground through a resistor.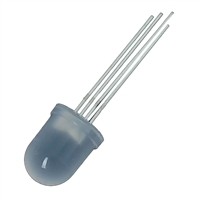 Adafruit Industries Diffused RGB 10mm LED - 10 Pack
Usually ships in 1-3 business days.