Adafruit Industries

Adafruit Industries NeoPixel Diffused 5mm Through-Hole LED - 5 Pack
Overview
Each LED looks just like a shorter version of the classic through-hole 5mm RGB LED with 4 legs, but instead of just red/green/blue there's a little chip inside that can control the LED with high speed PWM for 24-bit color. Power them with 5V and chain them together, tying the Data-Out pin of one to the Data-in of the previous one in the chain.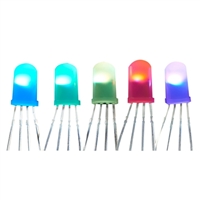 Adafruit Industries NeoPixel Diffused 5mm Through-Hole LED - 5 Pack
Usually ships in 1-3 business days.