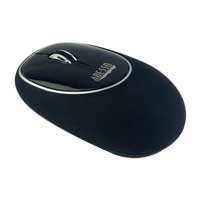 Adesso

Adesso IMOUSE E60B BLACK WRLS
Overview
The Adesso iMouse E60- Wireless Anti-Stress Gel Mouse, is a gel mouse that conforms to your hands curves to reduce stress, relieve tightness in finger joints and overall is just more comforting than the average mouse. The soft malleable surface will bring endless comfort to your palm, letting you work for long hours without pain. The wireless feature allows you to avoid tangles that may be common for any other mouse. This beautiful stylish-mouse comes in various different colors for your choosing making it perfect for adding a bit of flair or brightness to your desktop environment!
Adesso IMOUSE E60B BLACK WRLS
Usually ships in 1-3 business days.