CyberPower Systems

CyberPower Systems 6". Outlet Extender - GC201
Overview
Ideal for gaining additional outlet space, the GC201 Outlet Extender from CyberPower is a heavy-duty cable with a six-inch cord and two grounded outlets. The Outlet Extender provides durable convenience for indoor office use. CyberPower offers an array of power-related products.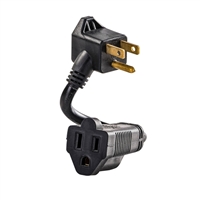 CyberPower Systems 6". Outlet Extender - GC201
Usually ships in 5-7 business days.