Adafruit Industries

Adafruit Industries HDMI 4 Pi 5" Display no Touchscreen 800x480 - HDMI/VGA/NTSC/PAL
Overview
A 5.0" LCD TFT display with incredibly high resolution and great angle-visibility! We tried to get the thinnest, brightest, highest resolution display that would be good for embedded computing usage. Included is a driver board with HDMI, VGA and Composite inputs.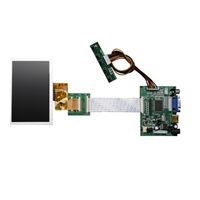 Adafruit Industries HDMI 4 Pi 5" Display no Touchscreen 800x480 - HDMI/VGA/NTSC/PAL
Usually ships in 1-3 business days.