MCM Electronics

MCM Electronics Magnetic Pin Back
Overview
These magnetic pin backs have two pieces: a metal bar with adhesive strip and a plastic piece with two strong rare-earth magnets. Affix the metal bar to your FLORA projects-- it's just the right size! Then attach your FLORA project to any garment without poking holes in your clothes. The magnets are strong enough to hold up even a hefty circuit!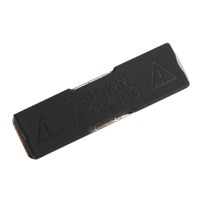 MCM Electronics Magnetic Pin Back
Usually ships in 1-3 business days.