Amped Wireless

Amped Wireless TITAN-EX RE1900A AC1900 Dual-Band Wireless Range Extender
Overview
The TITAN-EX is the most powerful Range Extender available in the market. Built with a 1GHz Dual Core Processor, 14 high power amplifiers, and 4 high gain antennas. The TITAN-EX delivers superior Wi-Fi performance and up to 14,000 sq ft of coverage. It is built to provide unmatched coverage, speed, and reliability for the busiest networks with many connected devices. Blazing-fast AC1900 Wi-Fi technology provides up to 1900Mbps, making slow downloads and video buffering a thing of the past. With 4 Antenna-RX Technology, the TITAN provides stable and strong connections for all of your devices. Extend your network with the TITAN-EX to go further, move faster and do more.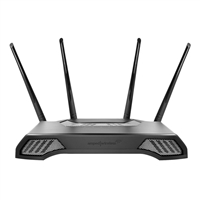 Amped Wireless TITAN-EX RE1900A AC1900 Dual-Band Wireless Range Extender
Usually ships in 1-3 business days.