MCM Electronics

MCM Electronics Male to Male Jumper Wires (40 Pack)
Overview
Male to male jumper wires are useful for making wire harnesses or jumping between headers on circuit boards. These jumper wires come in a 40-pin ribbon cable that can be pulled apart to make individual jumpers or kept together for a organized wiring harness.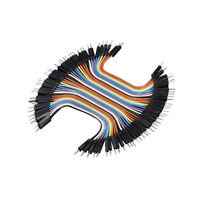 MCM Electronics Male to Male Jumper Wires (40 Pack)
Usually ships in 5-7 business days.