Sabre Security

Sabre Security Door & Window Alarm 2pk
Overview
The Dual Pack 120 dB Magnetic Door/Window Alarm helps secure your doors and windows to keep your home safe. The compact, magnetically triggered alarms sound when window or door is opened alerting you of an intruder. The alarms include entry chime setting that alert you when people/children are coming and going when you is at home.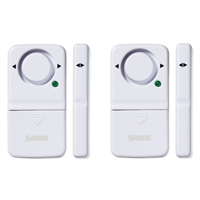 Sabre Security Door & Window Alarm 2pk
Usually ships in 1-3 business days.