Emtec International

Emtec International P700 Wi-Fi 1TB USB 3.0 2.5" Portable External Hard Drive - Black
Overview
Easily share, stream and store your files wherever you are, wirelessly! High speed transfer, dropbox direct access, up to 8 devices can connect at the same time, back-up functions (photos, videos and contacts), multi-user streaming, simple and intuitive UI app, up to 6 hours of battery life, extra storage for smartphones and tablets with wireless access. Router function (via Wi-Fi or the embedded Ethernet port). Wi-Fi functions work when the battery is charging.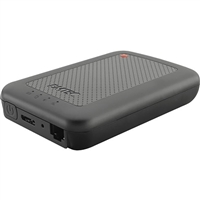 Emtec International P700 Wi-Fi 1TB USB 3.0 2.5" Portable External Hard Drive - Black
Usually ships in 1-3 business days.