Amped Wireless

Amped Wireless TAP-R3 AC1750 High Power Touch Screen Wireless AC Router
Overview
The TAP-R3 High Power Touch Screen AC1750 Wi-Fi Router delivers an extreme range Wi-Fi network in minutes, with just the tap of your finger. The TAP-R3 features a 4 inch color touch screen display for easy set up. Blazing-fast AC1750 speeds provide bandwidth for the whole family. It is equipped with 12 advanced amplifiers and 3 high gain antennas to boost your Wi-Fi coverage throughout your whole home. With 4 Gigabit wired ports, you can also directly connect devices like smart TVs and game consoles at blazing-fast speeds. The TAP-R3 is a sleek and powerful addition to any home or office network.
Thinking of leaving your cable provider?

You'll find helpful articles and FAQs about cutting the cord in our Tech Center.
---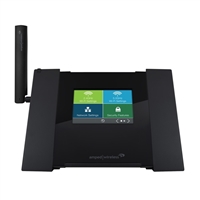 Amped Wireless TAP-R3 AC1750 High Power Touch Screen Wireless AC Router
Usually ships in 1-3 business days.