QVS

QVS Premium World Power Travel Adapter Kit w/ Surge Protection
Overview
This compact and easy to carry universal travel power adapter provides world-wide compatibility with surge protection. This all-in-one adapter works in over 180 countries/territories. Features safety shutter to prevents accidental contact, status LED lights, and short-circuit protection. Includes travel pouch. Provides 42 Joules and clamping voltage of 775v. CE and RoHS compliant.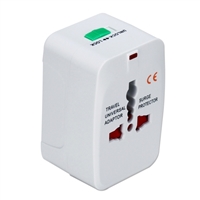 QVS Premium World Power Travel Adapter Kit w/ Surge Protection
Usually ships in 5-7 business days.