Speedlink

Speedlink LEDOS Gaming Mouse - Red
Overview
In the heat of battle, quick reflexes and perseverance are called for. To stop having to continually press your mouse button while you're in a gun fight with your enemies, the LEDOS Gaming Mouse features an additional rapid-fire button which takes care of this for you by automatically performing a double-click. Strafe your enemies with a burst shot as soon as you press the button. Achieve the ultimate in precision using the sniper button. Press it, and the sensor resolution reduces automatically to 500dpi temporarily slowing down your mouse-pointer speed and enabling you to hone in on your target with deadly precision. It's an invaluable advantage for covert ops and times when maximum precision is called for.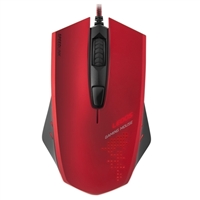 Speedlink LEDOS Gaming Mouse - Red
Usually ships in 1-3 business days.