Cyber Acoustics

Cyber Acoustics CA-3610 Curve.Immersion Sound System
Overview
Cyber Acoustics CA-3610 3 piece speaker system features the new Curve.Immersion design. The Immersion is the latest in styling and optimized sound characteristics, at a price that truly astounds for any need. Designed with aluminum inspired cues, built to compliment the home, and truly delivers immersive sound for computers, tablets, iPods and More.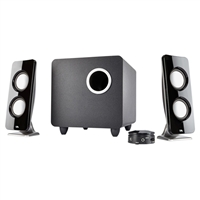 Cyber Acoustics CA-3610 Curve.Immersion Sound System
Usually ships in 1-3 business days.