Sabrent

Sabrent 2.5" SSD & SATA Hard Drive to Desktop 3.5" Bay Converter
Overview
Upgrade your PC or MAC to the speed and stability of a Solid State Drive, or even reuse an existing 2.5 Sata hard drive, by simply converting your existing 3.5" drive bay to accommodate the smaller drives. Industry standard screw mounting locations make it easy to install any size 2.5" Sata hard drive or SSD in a 3.5" SATA drive bay of your tower.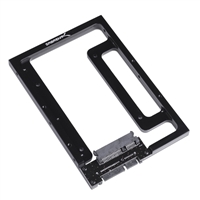 Sabrent 2.5" SSD & SATA Hard Drive to Desktop 3.5" Bay Converter
Usually ships in 5-7 business days.