Epson

Epson ES3000 Ultra Portable Projection Screen
Overview
An easy-to-use, portable projection screen, the ES3000 is ideal for the mobile presenter. Designed to expand to the size that best meets your needs, it will easily open to three popular sizes: standard 4:3, widescreen 16:9 or widescreen 16:10. This innovative projection screen from Epson provides the perfect solution for both brilliant business presentations and amazing home theater applications. Take it anywhere. With the included wheeled case, its easy to transport. And, setup is simple. With its unique, one-piece design, theres no need to assemble various components. In no time at all, youll be ready to sit back and enjoy brilliant images on a bright white screen. When its time to shut down, the ES3000 stores quickly and easily.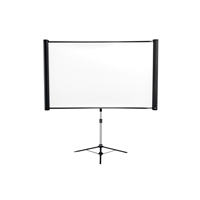 Epson ES3000 Ultra Portable Projection Screen
Usually ships in 1-3 business days.