CyberPower Systems

CyberPower Systems P806U 8-Outlet USB Surge Protector
Overview
Designed for use in home and office, the P806U Surge Protector USB from CyberPower protects electronic devices from damage caused by power spikes and surges. It features eight surge-protected outlets (two widely spaced), two charge ports (2.1 Amps shared), and a six-foot power cord with a low profile plug. The Surge Protector USB, rated at 2700 joules, is ideal for use video and audio equipment, cable and satellite equipment, game consoles, computers, laptops, and smartphones.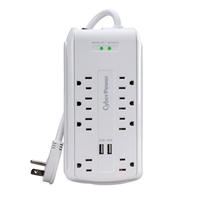 CyberPower Systems P806U 8-Outlet USB Surge Protector
Usually ships in 5-7 business days.