UT Wire

UT Wire Q Knot Pro Reusable Ties - 25 pk
Overview
Q-Knot Pro Reusable Cable Ties, just think of it like a new and improved version of your old rubber bands. Use this reusable multipurpose tie for bundling multiple objects, organizing various cords (computer, electronics, extension cords, power tools, and small appliances), sealing plastic or paper bags, and much more! Easily release, retie, and reuse! Stretchable and flexible, Non-slip gripping teeth and smart self- locking design secure anything. 3 different lengths, small, medium & large to accommodate to any task.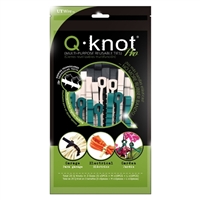 UT Wire Q Knot Pro Reusable Ties - 25 pk
Usually ships in 5-7 business days.