Innovation First

Innovation First Hexbug Aquabot Seahouse - Assorted Colors
Overview
Introducing HEXBUG AquaBot Seahorse that adds a tropical twist to your aquarium. Packed with smart fish technology and powered by electro-magnetic propulsion, this water-born Seahorse uses its curly rubber tail and elegant back fin to gracefully swim and bounce around inside any fish tank. Our patent pending technology makes it easier than ever with 3 ways: simply run your fingers through the water, touch the Seahorse, or tap the side of your tank and your AquaBot will wake up, ready to play!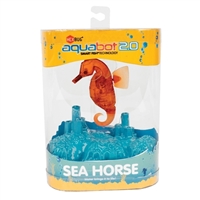 Innovation First Hexbug Aquabot Seahouse - Assorted Colors
Usually ships in 1-3 business days.