Kanex

Kanex USB 2.0 (Type-C) Male to USB 2.0 (Type-A) Female Adapter 7 in. - White
Overview
The Kanex USB-C to USB-A Female Adapter is the same as a traditional USB port on your computer. This allows users to plug their phone or tablet into the computer (for instance, one plugs a micro-USB cable or lightning cable into their phone/tablet and the other end into our cable).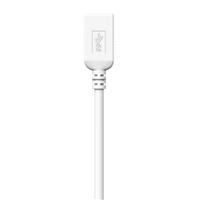 Kanex USB 2.0 (Type-C) Male to USB 2.0 (Type-A) Female Adapter 7 in. - White
Usually ships in 1-3 business days.