IOGear

IOGear USB 3.1 (Gen 1 Type-A) Male to USB 3.1 (Gen 1 Type-A) Female BoostLinq Cable 16.4 ft. - Black
Overview
The IOGEAR USB 3.0 BoostLinq extension cable uses active electronics to amplify the USB signal and maintain USB 3.0 SuperSpeed data transfers over extended distance, with no loss of data integrity or signal quality. The cable has a USB Type A male and a Type A female connector. The USB A connector is the rectangular shaped plug found on PC's, hubs, and many other host interfaces. IOGEAR's USB 3.0 BoostLinq extends from the USB host computer and provides another female A connector up to 16.4 feet away for all your USB needs.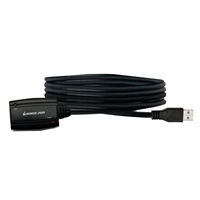 IOGear USB 3.1 (Gen 1 Type-A) Male to USB 3.1 (Gen 1 Type-A) Female BoostLinq Cable 16.4 ft. - Black
Usually ships in 5-7 business days.